Training the Internal Trainers for Junttan X-Series technology
12.12.2016
New tech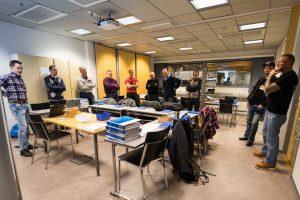 nology requires continuous hands-on training for all the people involved. This week here at Junttan Factory we are training the Junttan Internal Trainers to support the new X-series products all over the world. The goal is to ensure that the trainers have the latest know-how and experience to ensure high reliability of X-series products around the world.
This week's training is part of the  Junttan internal training program. Junttan offers this training for its own service crew and for the service people working as part of the global Junttan Network. Junttan Internal Trainers all around the world will get in-depth training with Junttan simulation workbenches as well as hands-on training with the real rigs on our training yard.
"The aim of all training is to support our customers better and to achieve higher reliability and efficiency at the worksite with minimum downtime. New technology creates new possibilities to diagnose and help our customers all around the world, that's why it is highly important for us to keep all the people involved highly trained with continuous training," says Tomi Voutilainen, Product Manager for Services.