Cost Savings and Carefree Piling – Junttan Remote Center Support
21.11.2016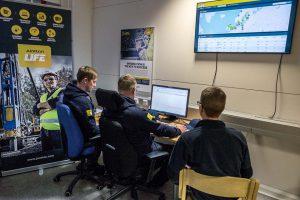 Digitalization opens new opportunities for more profitable construction work. Junttan Remote Center uses the Junttan Remote Connection online facilities and the Service team's hands-on knowledge in piling. The combination of top-notch Junttan piling equipment and technical expertise ensures that Junttan customers get up-to-date service no matter what they service needs are.
An example of Junttan's commitment to its customers is a Junttan PMx27 service case from May 2016. The hammer height adjustment system was not responding satisfactory causing inaccuracy at certain height levels. The Junttan Service staff used the Junttan Remote Connection to inspect the real time operational data of the hammer and the Junttan PMx27 rig.  Based on this information the service team was able to identify the root cause and find the best solutions to fix it. Customer was very happy with the diminished downtime of the piling fleet and fast response of Junttan Service staff.
The Junttan Remote Center support and Junttan Remote Connection allows an easy way to get support for Junttan fleet around the world.  The Junttan Remote System has proven to save time and consequently money as the unexpected issues have been identified in time or even before they impact actual piling work. The only precondition for the customer is that the Junttan rig in question is equipped with the remote access plug-in and a well-functioning phone connection with the rig driver.