New Service Manager for Junttan Ab
18.11.2019
We are pleased to announce that Johnny Blomgren has j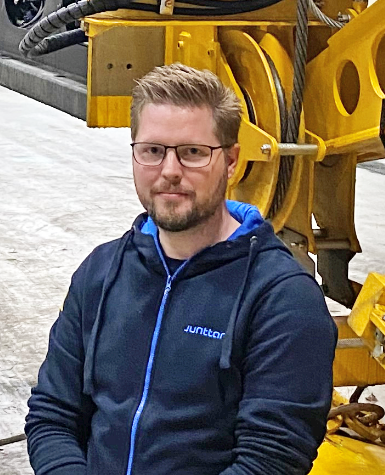 oined the Junttan Ab team in Gothenburg on 4th of November 2019 as a new Service Manager. Before joining the Junttan team Johnny has worked 15 years for Wärtsilä Seals & Bearings business line, first as a Field Service Coordinator and for the last five and a half years as a Global Service Manager with responsibilities including leading, developing and growing Field Services for Seals & Bearings products.
Junttan Ab has now been operating locally in Göteborg for over two years and have a stock of spare parts in our own workshop plus three experienced service specialists: Peter Börjesson, Simon Rehnström and Ole Albertsson. The team also include an Aftermarket Coordinator, Linda Berg, who is responsible for, among other things, invoicing, stock and spare parts. The team will be led now by Johnny – and will continue to be fully supported by Junttan team in Finland.
We keep focusing on service agreements and preventative maintenance. The plan is to continuously strengthen the local resources according to Scandinavian market needs.
With any service needs, please contact our Junttan Ab team:
Junttan Ab
Äsperedsgatan 9, SE-424 57 Gunnilse, Sweden
Johnny Blomgren, Service Manager
Mob. +46 724 513 038, email johnny.blomgren (at) junttan.com
Linda Berg, Aftermarket Coordinator
Mob. +46 724 513 034, email linda.ber (at) junttan.com
Technical support
Tel. +46 311 34482 / service-sweden (at) junttan.com
Equipment sales, Ate Konkka, Sales Director, Junttan Oy
Mob. +358 50 578 1154, email ate.konkka (at) junttan.com
For further information, please contact:
Ilkka Nikkilä, Vice President, Services, Junttan Oy
Mob. +358 50 555 0702, email ilkka.nikkila (at) junttan.com
PÅ SVENSKA:
Vi är glada att meddela att Johnny Blomgren har anslutit sig till Junttan Ab-teamet i Göteborg som ny servicechef den 4 november 2019. Johnny har, innan han började på Junttan AB, arbetat 15 år för Wärtsiläs Seals & Bearings affärsområde som servicekoordinator och de senaste fem och ett halvt åren som global servicechef med ansvar att leda, utveckla och växa serviceverksamheten för Seals & Bearings produkter.
Junttan Ab har nu varit verksamma lokalt i Göteborg i över två år och vi har under denna period byggt upp ett lager med reservdelar i vår egen verkstad. Vi har tre erfarna servicespecialister: Peter Börjesson, Simon Rehnström och Ole Albertsson. I teamet ingår också en eftermarknadskoordinator, Linda Berg, som bland annat ansvarar för fakturering, lagerhållning och reservdelar. Teamet leds nu av Johnny och kommer att fortsätta med fullt stöd från Junttan Oy i Finland.
Vi fortsätter att fokusera på serviceavtal och förebyggande underhåll. Vår plan är att ständigt stärka de lokala resurserna för den skandinaviska marknadens behov.
Kontakta vårt Junttan Ab-team vid alla servicebehov och förfrågningar:
Junttan Ab
Äsperedsgatan 9, SE-424 57 Gunnilse, Sverige
Johnny Blomgren, servicechef
Mob. +46 724 513 038, email johnny.blomgren (at ) junttan.com
Linda Berg, eftermarknadskoordinator
Mob. +46 724 513 034, email linda.berg (at) junttan.com
Teknisk support
Tel. +46 31 134 482, email service-sweden (at) junttan.com
Maskinförsäljning, Ate Konkka, försäljningschef, Junttan Oy
Mob. +358 50 578 1154, email ate.konkka (at) junttan.com
För ytterligare information:
Ilkka Nikkilä, vice vd, services, Junttan Oy
Mob. +358 50 555 0702, email ilkka.nikkila (at) junttan.com