Junttan USA at IFCEE 2021
10.6.2021
Junttan USA attended the International Foundations Congress and Equipment Expo (IFCEE) in Dallas, TX. USA on May 10-14, 2021.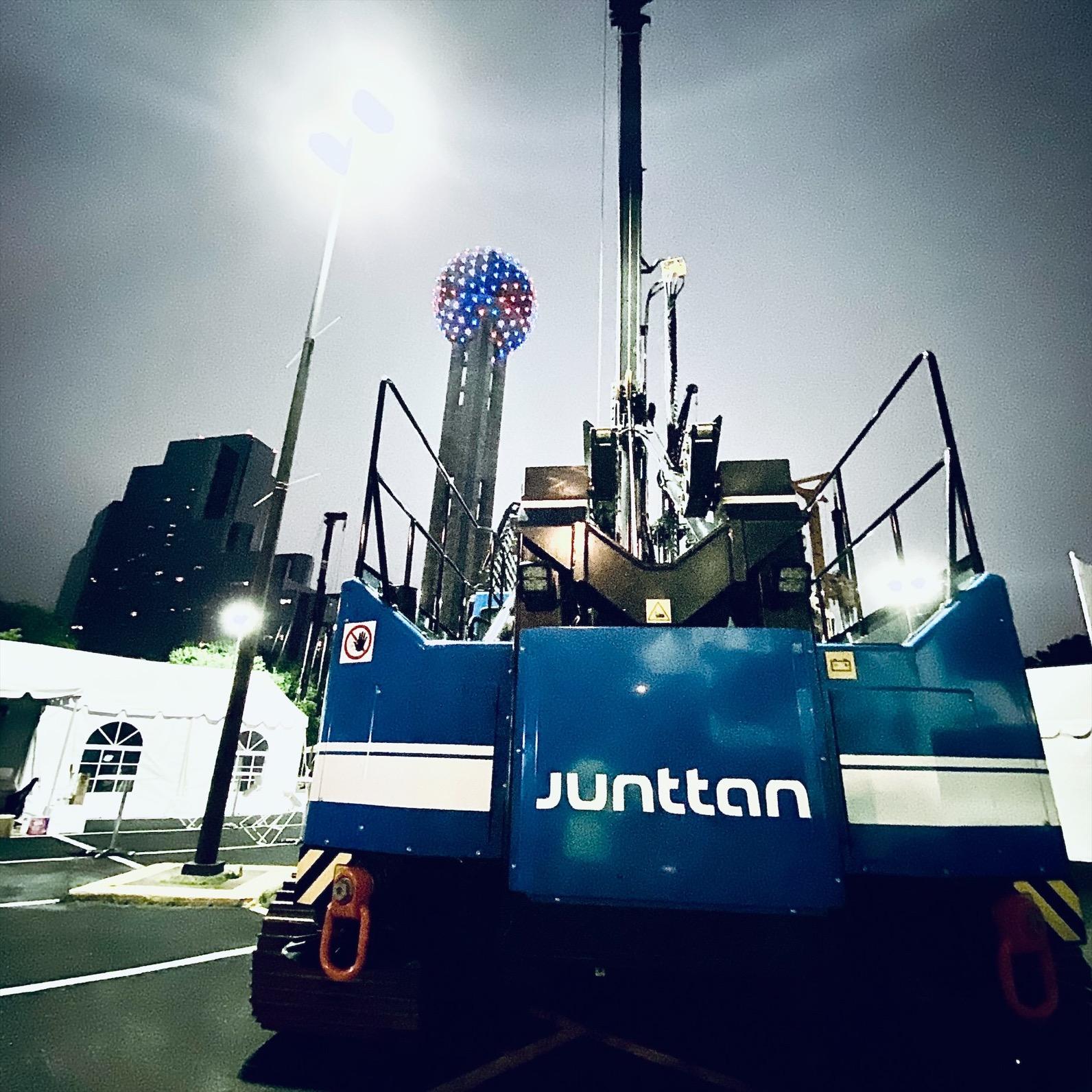 (the Junttan PM16 pile driving rig under the lights)
IFCEE is a technical conference and equipment show dedicated to the design and construction of foundation systems, using the latest geo-engineering and geo-construction technologies and practices. This "one of a kind" event attracts attendees from around the world, who have access to various technical education programs and the world's largest equipment exposition dedicated solely to the deep foundations industry.
Although IFCEE 2021 was presented on the heels of the Covid-19 Pandemic, Junttan USA made a conscious decision to attend and showcase our products.  Even though there was concerns for health, safety and of course the potential for reduced attendance, we felt we owed it to the industry to participate.
The following organizations have joined forces to bring this international show to Dallas, TX; ADSC – The International Association of Foundation Drilling, DFI (Deep Foundations Institute), G-I (Geo-Institute of American Society of Civil Engineers), and PDCA (Pile Driving Contractors Association).  Junttan USA is a proud member and participant of all these organizations.
Since the show was planned with much hesitation, we agreed to have a scaled down display and cut back on our attending employees.  The PM16 was the equipment of choice for many reasons.  One reason was the affordable transportation cost to the show, second was the minimal efforts to set up the rig and of course lastly it showcased the power and strength of our PM product line in a small package.
Attending the show were Junttan USA Employees John Zito, Allan Korte and Tim Dutton.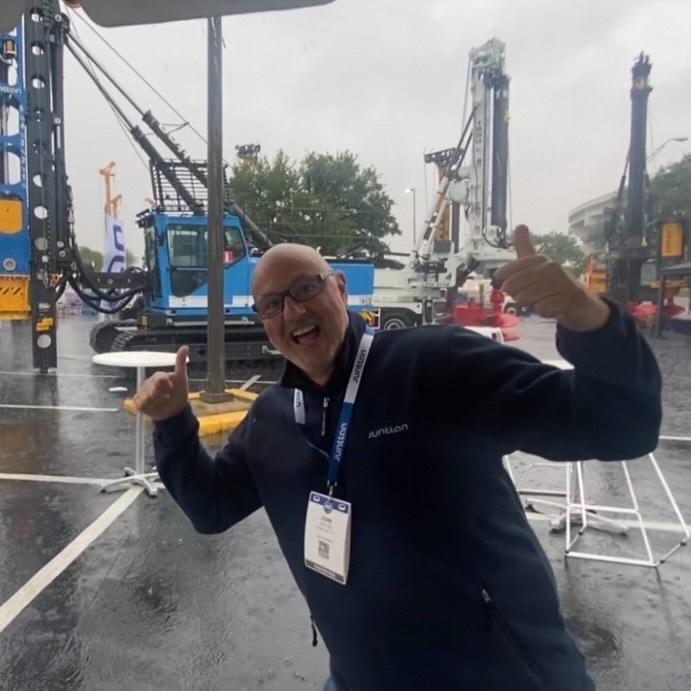 (Americas Guest John Zito waiting out the rain on day one of the show)
Our premonitions for low attendance coming out of a pandemic were correct. Day one brought torrential rain which narrowed our window for opportunity even more.  Although we were presented with a difficult deck of cards, we took every opportunity to make the best of the show.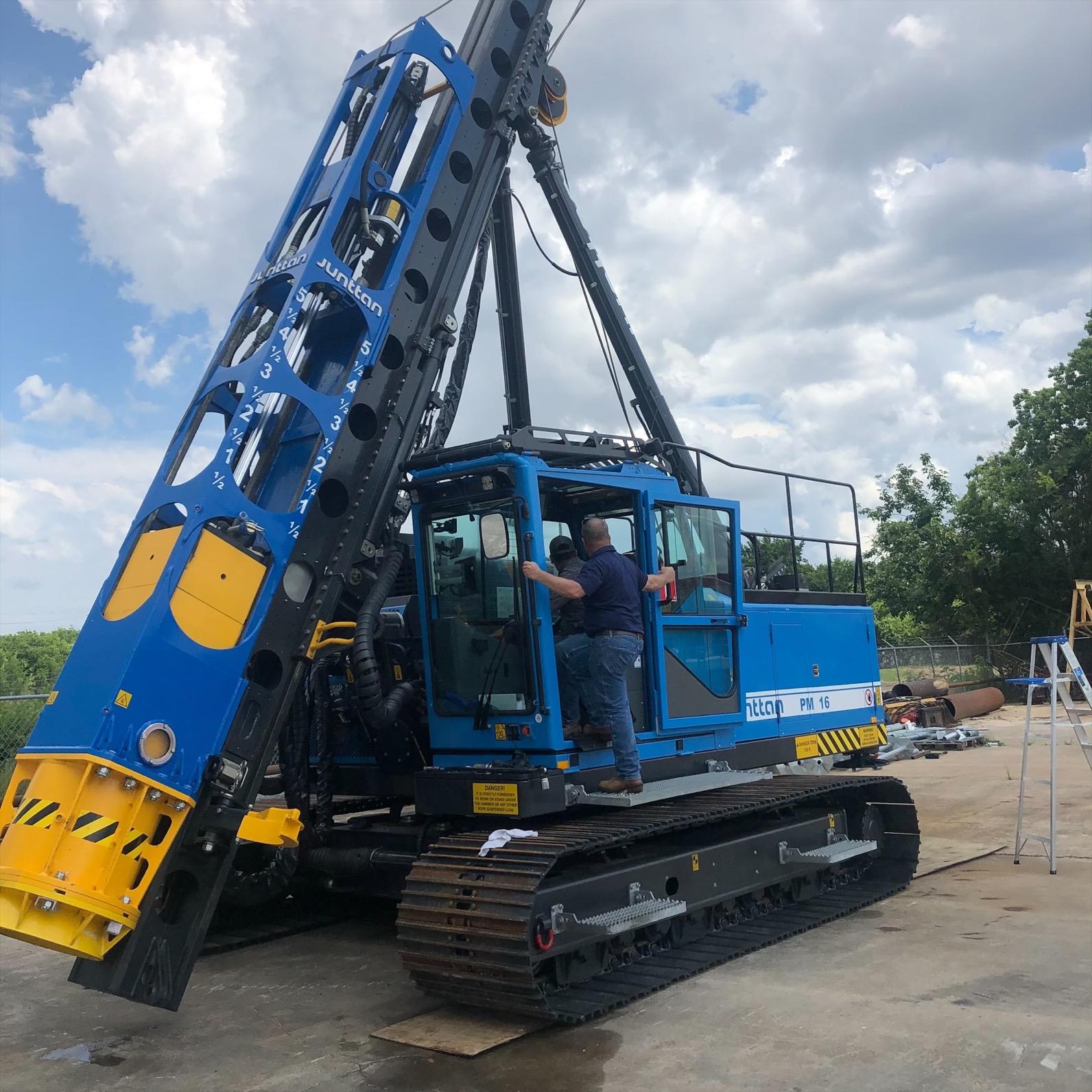 (Allan Korte Carrying out training with the operator from GPI)
The expo had its deserved ending when Cody Lee, the president of Galveston Pile Driving Inc. (GPI), firm based in Houston, TX, visited the booth on the last day and signed a Rental Purchase Option (RPO) deal on the new PM16 pile driver that we had on display. The following week, Allan and Luke visited the crew from GPI and carried out the delivery and training.
In conclusion we were very happy with the outcome during the show.  We made contact with new and old clients alike and are hopeful for many more good results to turn up as a result of the show.  Thank you all, who visited us in Texas. Hope to see you soon again!