Junttan Piling Blog – Junttan's 45th Anniversary Year
18.5.2021
This year, 2021, marks the 45th anniversary of Junttan Oy. During the last 4 decades, when we have been building piling equipment in Kuopio and delivering them around the world, a lot has happened. Junttan has grown from a small family-owned local contracting business into a much bigger, but still family-owned business, that is specialized in piling equipment and services and is operating internationally on all continents. The company has grown from a handful of fearless Finns into a group of approx. 250 multinational people in eight different locations in Australia, Canada, Finland, Holland, Sweden and USA. Equipment has grown and the technology used in them has developed a lot. Junttan has expanded its activities from a company designing and building equipment into a group of companies providing local services for our customers for the whole life span of the equipment, including measuring and professional services for deep foundation specialists.
With this Junttan Piling Blog we hope to bring you new insight into the life behind what you see on our website and our social media channels and other materials. We would like to open more about our philosophy and approach to the design solutions and reasons that have led us into our ways of building equipment and how they have developed during the decades and where they are going next. We also plan to include more of our own opinions on equipment and service development and invite other professionals, outside Junttan, to share their thoughts. The Junttan Piling Blog will not be a personal blog of somebody who is working at Junttan, but a company blog that is written with influence from all of us at Junttan. The plan is that this blog will over time go into a direction that meets the interest of our followers and offers material that will be hopefully entertaining, and at least little bit interesting, from the point of view of deep foundation professionals. As always, all feedback and ideas are very welcome! With your interaction we can take on the topics that are interesting to you.
Let's take a short walk down the memory line
To build a clear picture of who we are, where we are today and how have we ended up here, it is best to start from the early days. In the 1970's all pile driving equipment on work sites in Finland were operated with mechanical equipment built on different base machines, due to ground conditions diesel operated hammers were not used. By the end of the decade most of this equipment was either old or really old and there was no new equipment available. At the time, second generation contractor Mr. Pentti Heinonen (1936 – 2019) had been working in dredging contracting and building own equipment for the work. When contracts in dredging business were decreasing, Pentti saw that entering piling business would be a good idea. Pentti saw the issue with the existing equipment very clearly and set his goal to develop a completely new type of piling equipment that would use hydraulic drive to power the rigs movements and the impact hammer. Pentti's vision and instructions guided young engineer Raimo Partanen to design process of new equipment. In the spring of 1979 first rig was finished and it started working in Pentti's own operation. The first rig was built on French made Richier excavator. Movements of the rig, including pile handling winches, were hydraulic and free-falling hammer's ram block was also lifted up with hydraulics.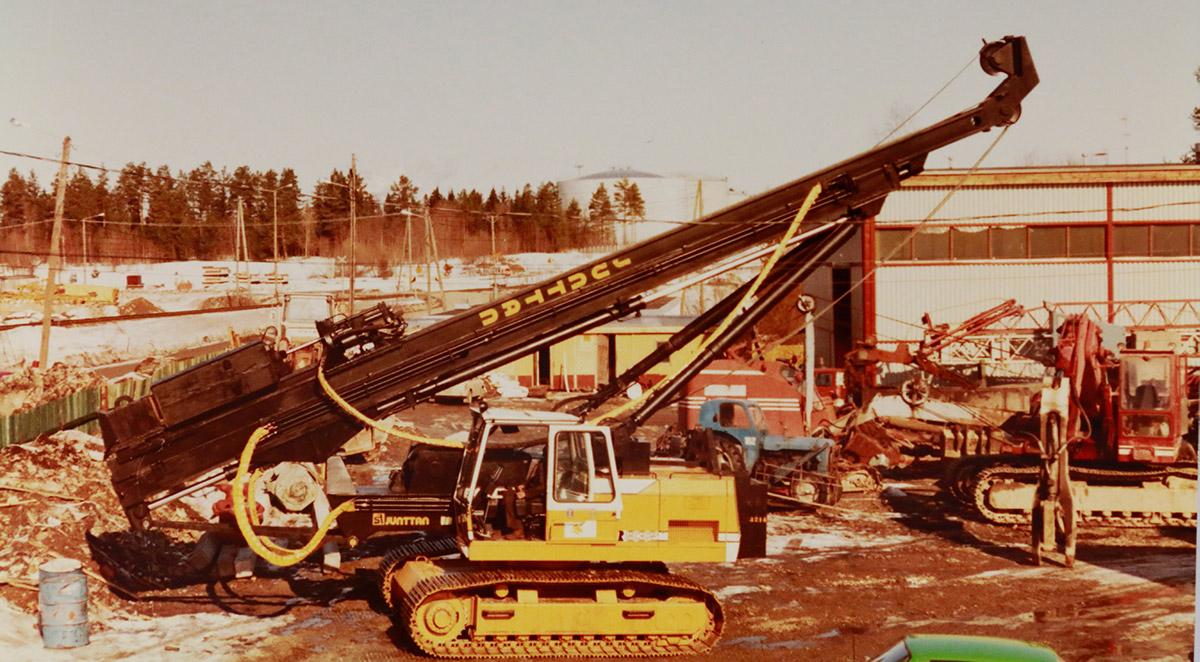 Photo: One of the first Junttan rigs.
Second piling rig was built in 1980 and it was also built on an Richier excavator. Number two had already fully hydraulic hammer, HH500, with 4-ton ram block and 500 mm drop height. Second piling rig had the name Junttan on its side for the first time and it was also first used in own contracting. This rig was later sold to Finland and after two owners it was sold to Africa in 1987.
The rig number three was built on Lokomo T340 excavator and it was also sold to Finland. All together Junttan built approx. 20 piling rigs based on excavator platform. Markets in Finland where however too small, so starting to export the rigs was pretty much the only way to keep developing the company. Excavator based rigs were often too high for transportation outside Finland and something needed to be changed to keep up in the game. With Pentti's fearless attitude and innovation-based approach completely new purpose-built piling rig Junttan PM20 was designed and built in 1983. The very first PM20 had the same proven solutions that made the excavator-based rigs good in use: fully hydraulic impact hammer, winches that automatically free wheeled when hammer was in use, horizontal boom, and telescopic leader. In addition, the first PM20 had hydraulically expandable under carriage, hydraulically movable counterweight, hydraulic pile arms and special open structure in the upper carriage that allowed the leader to be lowered down to allow low transportation height. This made it possible to transport the rig in one piece and get it back in working position in just few minutes. These same features still make Junttan rigs famous for their productivity and ease of use today.
The first Junttan PM20 was working in Holland maybe five years ago and it had approx. 40 000 hours on the clock. Would be nice to know where it is today and what it is doing… Let us know if you have some information!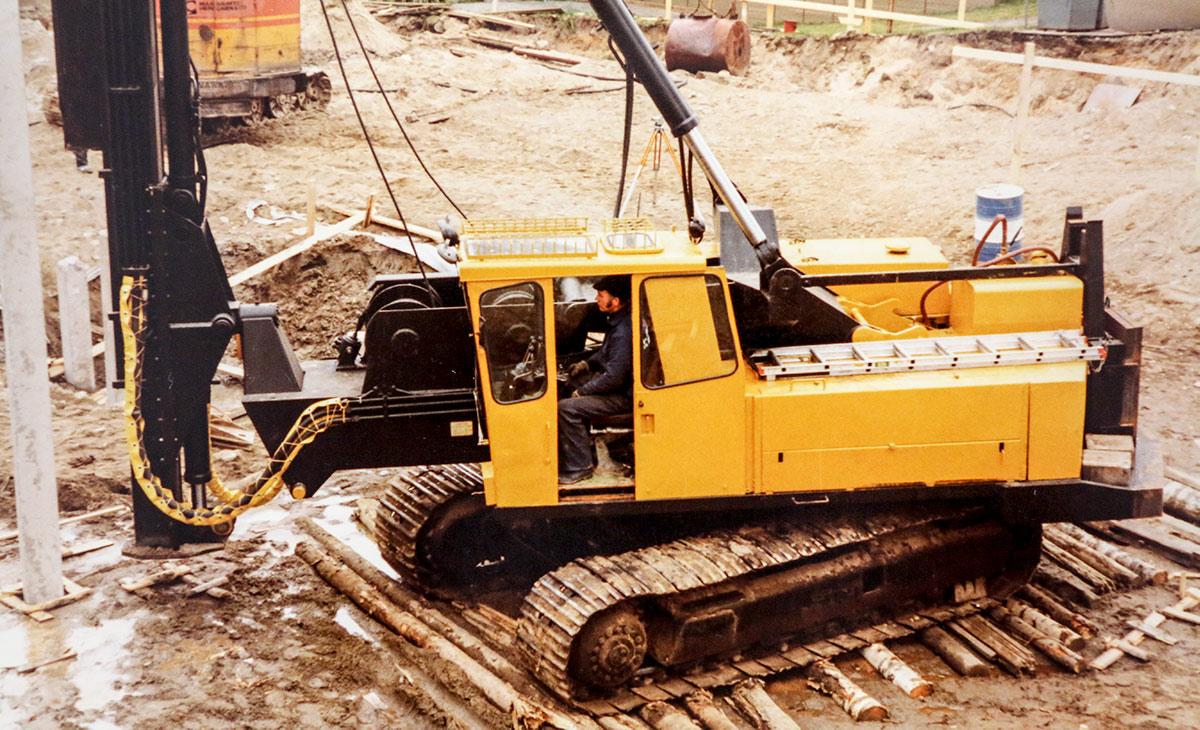 Photo: PM20 was the first purpose-built piling rig model for Junttan.
Times of change and growth
In 1988 company name was changed from the original Savonvarvi Oy into Junttan Oy. All of you, who don't speak Finnish, can try to pronounce the original name and wonder why it was changed… At the same time, we also built our first multipurpose rigs and separate hydraulic power packs for hammers so that they could be used independently without the rig. This way we were able to provide bigger hammers than those used with rigs. Even though the design of the new purpose-built pile driving rig offered totally new innovations and brought the productivity and work safety of piling rigs to a completely new level, Pentti's idea from the beginning was to develop also multifunctional equipment that could be used with other piling methods as well allowing Junttan to serve its customers in broad range of deep foundation businesses. And this route and guideline is what we are still following today.
From the very beginning, the basic idea in Junttan design has been to build all details so that the equipment is safe, reliable and fast to use, and offer custom solutions to customers. Simple way to put it is to quote the founder, Pentti; "if we build equipment that will earn money to our customers, they will buy them". Pentti understood from the beginning that to achieve the goals we need to cooperate with customers, listen to them and take the best ideas home and use them in the development process. In the beginning, Pentti had a vision how pile driving equipment could be improved, but that was only the beginning for the time-consuming and teeth grinding process to develop the business, and to finally reach the position of the biggest pile driving equipment manufacturer in the world. Customers who started to use the equipment Pentti build, gave their feedback and new ideas, and Junttan transferred those ideas into new equipment, finding the key to Junttan's succes. It was and it still is the customers, who play the most important role in our success and development.
Here, you can see more of Junttan history and hear Pentti's own memories from the old days.
What's next?
After approx. 1 000 purpose built piling rigs, we are still going strong and looking to grow and develop even more in the future with new generation sustainable and digital solutions, both in our products and organisation. Junttan's owner, family Brotherus, is committed to develop the company and we have a very strong platform to go forward on. Especially when Pentti's son, our former CEO Mr. Juha Heinonen, is still in the board of Junttan and actively supporting us.
This little recap of our history was the very first part of Junttan Piling Blog. In the next chapters we will go deeper into the design process of the very first generations of Junttan equipment and work our way to the latest designs. Let the Junttan Piling Blog be another chapter of the Junttan World to mark the celebration of 45-year-old Junttan. This way we can celebrate our anniversary year together – with all of you, wherever you are.
Stay tuned and let us know your comments and feedback!