Navy Yard Project, USA
James J. Anderson Construction Co., Inc. (JJA), an established highway contractor, surprised many by choosing to use a sophisticated Junttan piling rig instead of using a crane with diesel hammer for pile driving on the Broad Street Quay Wall project in the Philadelphia Navy Yard. From an engineering standpoint, this project was necessary to abate the subsidence of Broad Street due to hydraulic erosion. When the project is completed, it will include two vehicle lanes in each direction, a two-way elevated bike lane, and a scenic pedestrian plaza overlooking the Reserve Basin.
JJA's innovative approach involved driving a line of sheet piles to create a new steel seawall, removing the old seawall, and driving steel piles to support a new concrete pedestrian walkway. "There was an existing concrete seawall sitting on a timber deck," explains JJA's Chief Engineer Bob Crawford. "Our overall scope was first to drive a line of NZ 38 sheet piles to create a new 700-foot steel seawall behind the existing concrete wall, then remove the old seawall and timber deck on which it sat, and drive 12-inch epoxy-coated piles in front to support a new concrete pedestrian walkway."
"The new steel seawall had to be anchored to a concrete tieback sitting on batter piles," says Crawford. "The tieback sits 50 feet behind the seawall. 3-inch diameter galvanized tendons go from the steel seawall back to the concrete tieback. Once that system and the utilities are all in, we reconstruct the Broad Street roadway, new sidewalk, bike path, and pedestrian plaza." To construct the concrete tieback anchor, JJA drove 79 18-inch and 79 16-inch pipe piles, which were designed to be 80 feet long and driven on a 2V:1H batter. During test pile installation, it was determined that there were locations on the project where the tieback piles would need to be spliced and driven more than 100 feet to achieve design capacity due to changing soil conditions.
"None of the pipe piles on the project are seated in rock," Crawford says. "The 16-inch compression piles and 18-inch tension piles both derive their capacity from predominantly skin friction with only a minor contribution from end bearing for the compression piles." "We've seldom done friction piles so this was an experience to go through the test pile program and all the dynamic analysis iterations with Urban Engineers to determine that the production piles will attain the design capacity," says Crawford.
The decision to use the Junttan PMx28 pile driving rig with an HHK5S hydraulic impact hammer was driven by the need to accommodate extreme batter piles, with a 26-degree angle, to counteract the lateral pressure exerted by heavy vehicles entering the Navy Yard. "For the sheet piles, we had the rig first equipped with a PTC variable moment hammer and power pack on the back," explains Matt Eastburn, Junttan USA's Sales Engineer. The transition between vibratory and standard pile driving was seamless. When the time came to drive the 16- and 18-inch-diameter piles, the vibro components were removed, and the counterweight and HHK5S hammer were re-installed.  JJA's operator underwent training to adapt to the new equipment, and they ultimately exceeded production expectations despite the challenging batter piles.
The Junttan rig offered advantages such as easier and faster setup, better site access, and less equipment to maintain compared to conventional methods. Additionally, the rig's ability to maintain precise alignment without alignment falsework made the project more efficient.
Read the full article HERE, highlighting the successful collaboration between JJA and Junttan in overcoming complex geotechnical challenges and delivering the project on time.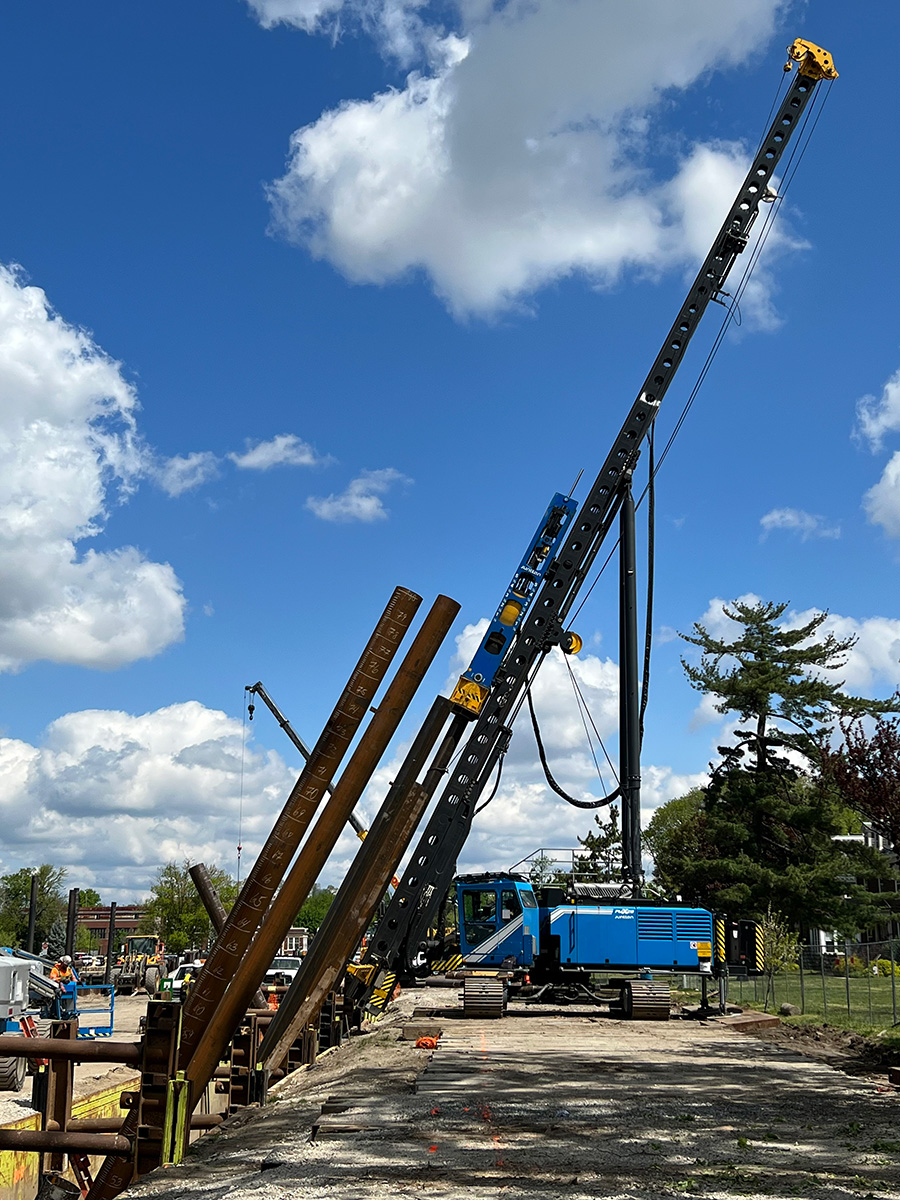 Project facts
Project type:
Infrastructure
Location:
Philadelphia, United States
Main Client:
Pennsylvania Department of Transportation (PennDOT)
Main & piling Contractor:
James J. Anderson Construction Co., Inc.

Piles:
700ft NZ38 Steel Sheet Pile Seawall
158 pcs. of 16in & 18in diameter pipe piles on a 2V:1H batter
Equipment:
Rental Junttan PMx28 pile driving rig with a PTC vibro package
Date on Site:
October 2022 to July 2023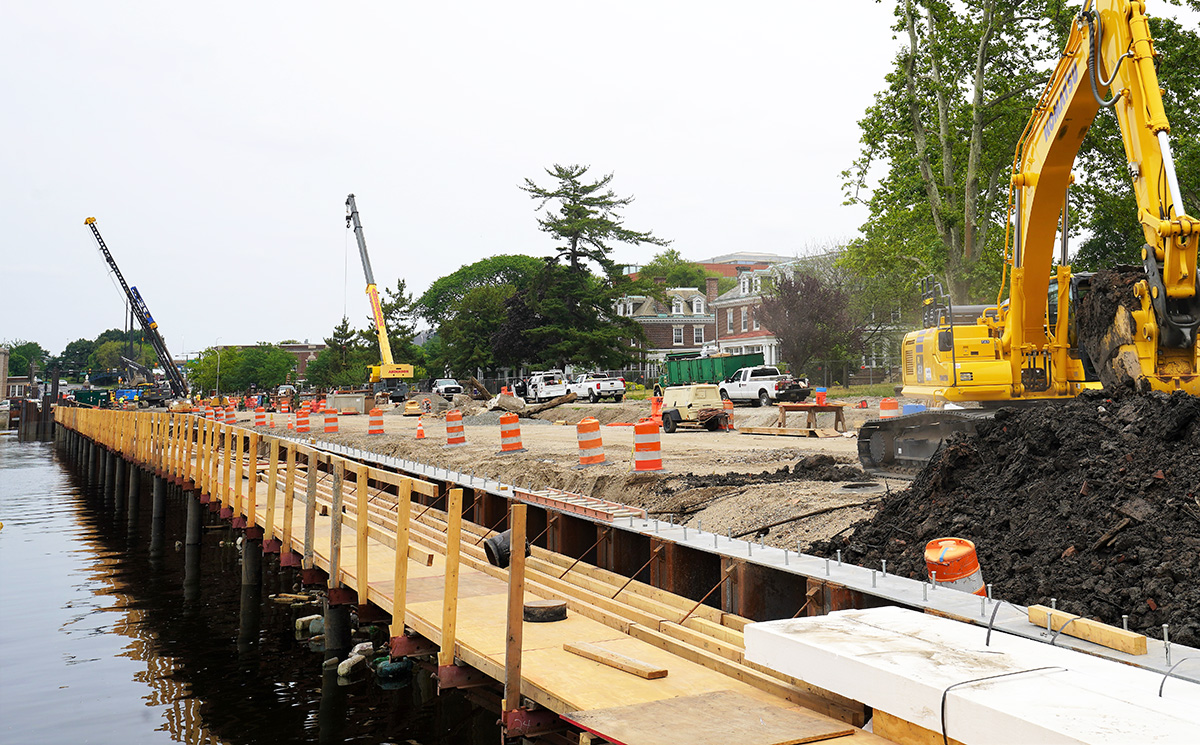 "Junttan was amazing. We've done batter piles before, but not quite this extreme. At this angle, we would have needed significant anchored false work to maintain the pile angle at such an extreme batter."
Bob Crawford, Chief Engineer, James J. Anderson Construction Co., Inc.