Rental Fleet Manager / Coordinator, Junttan Oy, Kuopio
24.3.2021
Junttan Oy specializes in the design, manufacture, marketing, and service of hydraulic piling equipment. Working closely with piling contractors and geo-engineers, Junttan has actively developed new products and taken the entire industry forward. Junttan invests strongly in Service business development and rental are part of our service offering especially in North America, Australia, and Central Europe where the concept is highly expected by our customers. Junttan rigs and equipment are respected throughout the world for their quality, reliability, and performance.
Junttan is a solid family-owned company with a 42 M€ net sales and 230 professionals. Our factory and HQ locate in Kuopio, Finland. We have a service center in Hyvinkää and two branch offices in Helsinki and Tampere as well as local companies in Australia, Canada, the Netherlands, Sweden, and USA. Around 95% of our sales is export sales and our customers operate in more than 40 countries globally. We have a strong focus on growth which is based on continuous learning and feedback loop from customers.
Learn more: www.junttan.com.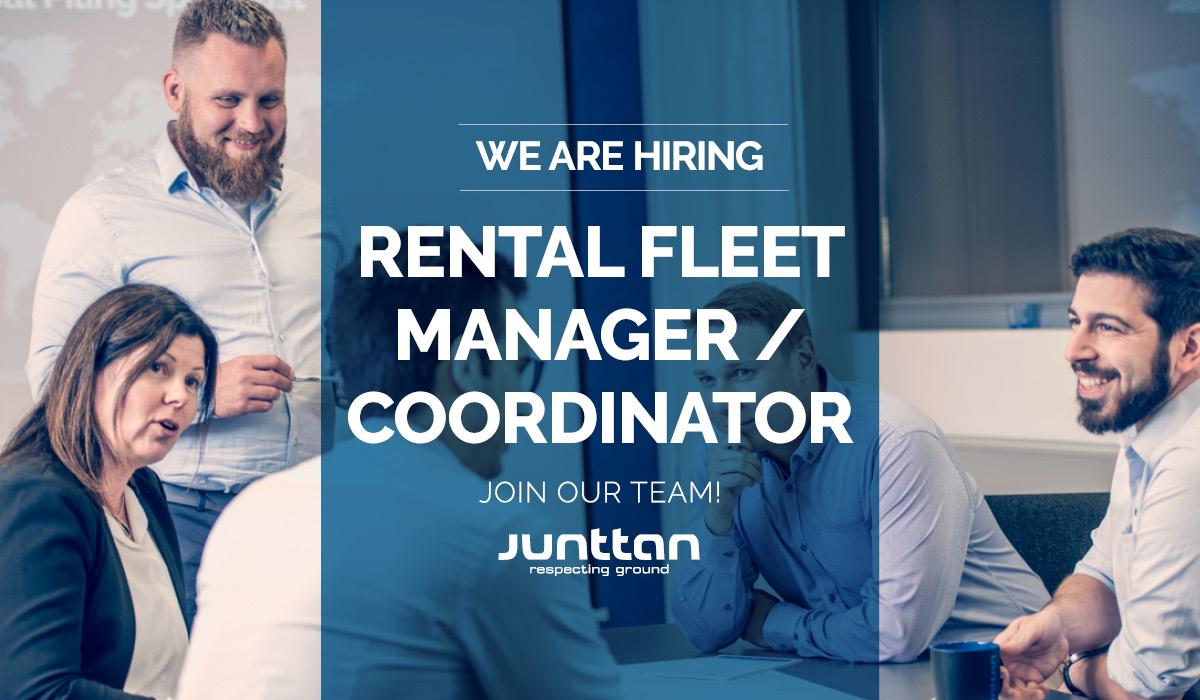 Do you have clear vision of how to control and manage rental fleet inventory?
Can you handle documentation, equipment pricing and modern ERP systems immaculately?
Are you natural in an international working environment?
Would you be eager to develop the company's processes and, on the side, yourself as a professional?
We are looking for an experienced construction rental equipment professional to join our growing Service department and Rental team in Junttan's HQ and factory in Kuopio.
What we are expecting from you:
As an industry expert, we expect you to have at 5+ years of experience in construction equipment rental business. You have a BSc. or MSc. degree in Industrial Management, Logistics, Construction or in some other relevant technical/engineering field. You are fluent in Finnish and English; other language skills are highly appreciated. You are precise in nature and interested in the technical and rental supply chain processes as well as know how to handle them carefully. You have a good understanding of the principles of the rental business and the earnings logic behind it. Knowledge in piling and other deep foundation methods is a seen as bonus.
Your tasks:
Oversight of rental fleet
Rental fleet inventory control
Rental Process development & updates
Rental fleet maintenance (follow up & development)
Rental invoicing monitoring and invoicing accuracy
Work orders follow-up & accuracy in our ERP- system
Rental equipment transport pricing
Insurances for Rental & Leasing equipment
Rental equipment Delivery & Return inspections: process development & documentation
What we offer
We provide our employees competitive advantages and recreational benefits, as well as comprehensive occupational health care. Our encompassing training program ensures that everyone can learn the piling industry from various angles, utilize those skills in a versatile way and develop themselves into true industry professionals.
Send your application, salary request and CV by 11.4.2021 at latest to Tapio Christiansen via email tapio.christiansen@junttan.com
If you have questions regarding this position, Tapio Christiansen, Head of Rental Business, and Ilkka Nikkilä, VP Service, will be more than happy to provide more information.
Ilkka Nikkilä                                                        Tapio Christiansen
VP Service                                                           Head of Rental Business
tel. +358 50 555 0702                                       tel. +358 50 477 8009
ilkka.nikkila@junttan.com                               tapio.christiansen@junttan.com