Junttan USA strengthens coverage in the southeast and adds new team members
26.3.2021
It was just over a year ago when we decided to expand our coverage in the southeast. Little did we know a pandemic would hit and business would develop a bit slower than expected. However, we have kept our foot on the pedal and the south is ever developing. We have added a location in Green Cove Springs, Florida which is comprised of a 1.5 acre lot, 4,000 sq/ft warehouse, workshop, yard office space and yard storage. Our location also has ample access for heavy haul trucks.
As operations begin in GCS, we first hired Allan Korte who joined us in February of 2020. With his 15 years experience working on and selling foundation equipment, he doesn't just stop at offering help with sales and rentals.  His technical background is an asset to our customers and organization allowing him to assist with training and technical support. In early 2021, Allan hired our new inside parts associate, Luke Karr. Luke is newer to the industry but has experience in customer service and inventory management which will help us make sure we get the customers what they need when they need it.  Luke also has a great technical background and is adapting to our industry very well.
We continue to build on our equipment, parts and service departments in Florida.
Our Florida branch is not alone. They are always backed by our team in the main headquarters up north and our associates in Finland.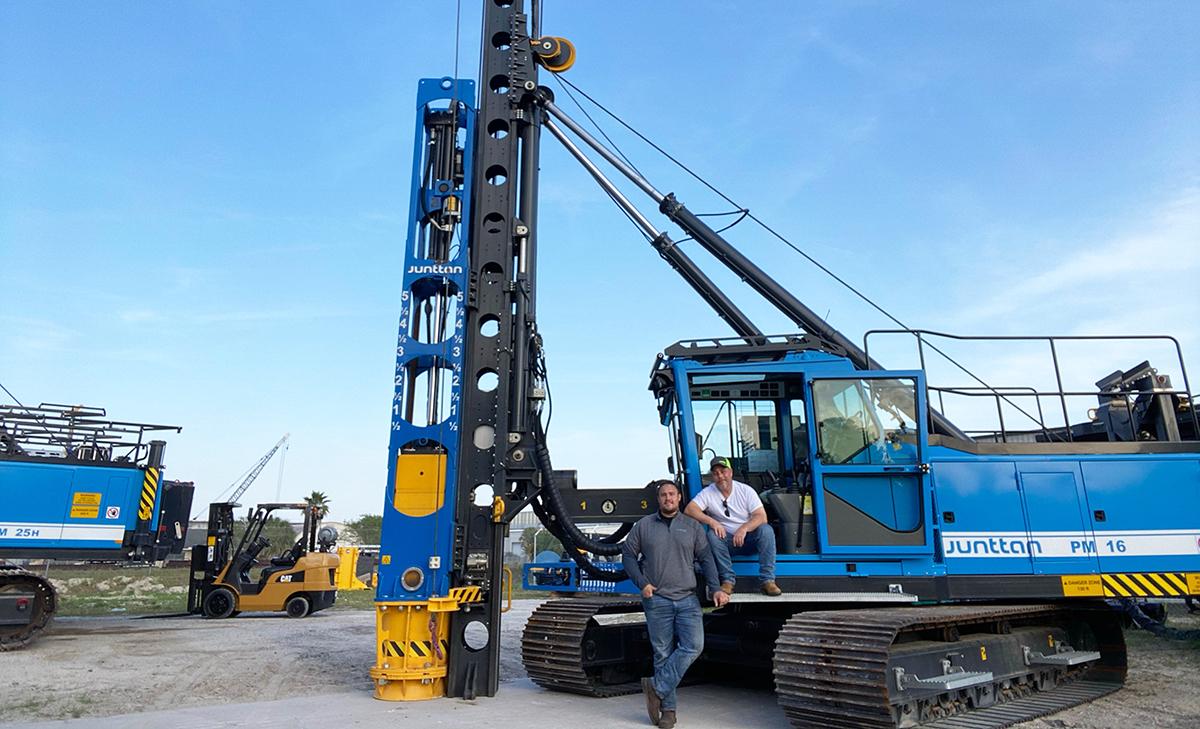 Photo: Luke Karr (on the left) and Allan Korte
We also added team member Justin Salter in our Laurel, DE location back in mid 2020. Justin has taken on the role of inside parts sales to add additional help on an ever growing business in the north. Justin has over 15 years experience in a dealership setting working in parts departments. His willingness to learn and adapt to our industry over the past year has been amazing.
With the addition of Justin, we have repositioned Henry Cornell to rake on a role as Parts and Service manager. Henry has been with us now for over 3 years and is becoming an integral part of our team. With Justin's day to day involvement with the parts sales, Henry is able to put most of his efforts into the service department and is always available to schedule and help organize all service related activities.
These changes also opened the door to assign James Massey a more direct technical support role. With his 15+ years experience working on Junttan foundation equipment, he is perfectly suited to head up our technical & training department. His ability to help clients over the phone is like no other. He will begin to developing training programs for mechanics and operators over the coming months and begin the steps towards starting our NCCCO accredited training location for dedicate piling rigs in Delaware.
These are further step towards offering direct support from the factory with trained personnel who specialize in Junttan equipment.
We look forward to supporting our clients in the south and continuing the strong business throughout North America.
Give us a call today!
SALES
Northeast / Midwest / West Coast
John Zito
John.zito@junttan.com
(860) 604-6088 cell
(855) 586-8826 ext. 704
Southeast / Gulf region
Allan Korte
Allan.Korte@junttan.com
(904) 495-8803 cell
(855) 586-8826 ext. 703
PARTS
Northeast / Midwest / West Coast
Justin Salter
justin.salter@junttan.com
(302) 542-2141 cell
(855) 586-8826 ext. 705
Southeast / Gulf region
Luke Karr
Luke.Karr@junttan.com
(904) 570-7659 cell
(855) 586-8826 ext. 707
SERVICE
Northeast / Midwest / West Coast
Henry Cornell
Henry.cornell@junttan.com
(302) 519-8315 cell
(855) 586-8826 ext. 700
Southeast / Gulf region
Allan Korte
Allan.Korte@junttan.com
(904) 495-8803 cell
(855) 586-8826 ext. 703
TECHNICAL SUPPORT
All Regions
James Massey
James.massey@junttan.com
(302) 500-1724 cell
(855) 586-8826 ext. 701
OPERATIONS
All regions
Tim Dutton
Tim.dutton@junttan.com
(302) 515-4454 cell
(855) 586-8826 ext. 702
ACCOUNTING
All regions
Michelle Smethurst
Michelle.smethurst@junttan.com
(443) 235-4126 cell
(855) 586-8826 ext. 706